Der Herbst naht und so langsam kommen wieder vermehrt Pullover und Jacken zum Einsatz. Wie gemacht für diese Jahreszeit sind Sachen aus Fleece. Fleecejacken von Jack Wolfskin und Salewa kenne ich bereits. Nun sollte eine Jacke eines anderen Herstellers hinzukommen. In diesem Review wird das Modell "Men's Gordon Lyon Full Zip" von  The North Face vorgestellt.
Die The North Face Men's Gordon Lyons Full Zip – hier vorgestellt in der Farbe "Graphite Grey Heather" –, ist eine bequeme Fleecejacke für Wanderer, die sich auch gut im normalen Alltag macht. Was mir besonders gut gefällt, und was in der Standardproduktabbildung der Jacke nur unzureichend rüber kommt, ist der leicht rustikale Look der Jacke. Optisch liegt sie irgendwo zwischen sportlicher Fleecejacke und einer Baumwoll-Strickjacke.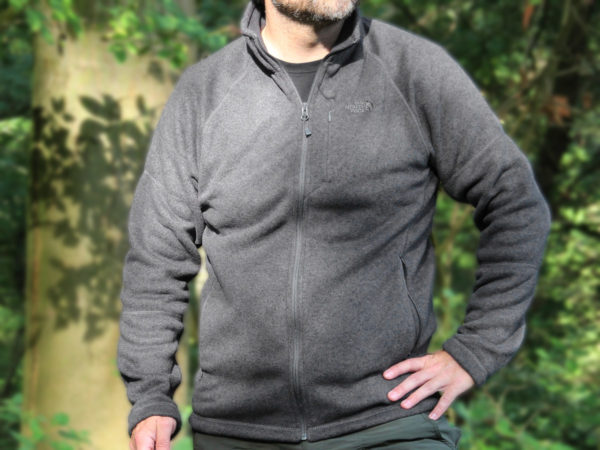 The North Face hält sich in letzter Zeit aus irgendeinem Grund mit der Gewichtsangabe seiner Produkte etwas zurück. Deshalb habe ich das Gewicht der Jacke selbst ermittelt. Mit 564 Gramm liegt die Gordon Lyon Full Zip im Normalbereich, wie er für Jacken mit 200er Fleece (200 g/m2) üblich ist. Auch im Winter ist sie also aufgrund ihrer robusten Beschaffenheit und isolierenden Wirkung eine gute Alternative. Dabei trägt sich die Jacke sehr angenehm. Die Bewegungsfreiheit ist zu jedem Zeitpunkt gegeben.
Die Gordon Lyon Full Zip gibt es in 8 Farben. Neben dem hier vorgestellten Grauton "Graphite Grey Heather" sind dies:Beige (Weimaraner Brown Heather), Sand (Dune Beige Heather), Dunkelblau (Deep Water Blue Heather), Schwarz (TNF Black Heather), Rotbraun (Bittersweet Brown Heather), Blau (Athens Blue Heather) sowie Grün (Conifer Green Heather). Der Zusatz "Heather" (Heidekraut) soll offenbar darauf hinweisen, dass die Farben aufgrund der Verarbeitung leicht gesprenkelt wirken.
Der unverbindliche Herstellerpreis liegt bei 89,95 Euro.
Fazit
Wer auf der Suche nach einer Fleecejacke ist, mit der man die kühlere Jahreszeit bestreitet, der findet in der Men's Gordon Lyon Full Zip von The North Face eine gute Alternative. Meine Empfehlung hat sie.
Fotogalerie: The North Face Men's Gordon Lyon